Hey Folks,
I have lost all Email subscribers for my mobile blog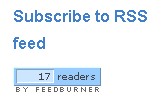 Damn it was showing 153 till yesterday.

Can you see the sudden dip in the graph.

The Feedburner Email Subscription Service is missing from this section today.
It was present yesterday as you can see below

Don't know wtf is wrong.
No info on the Feedburner blog